Author: Alan L. Colvin
The interior of your classic Mustang is very important to the overall look and drivability of your car over the long haul. The 1964-73 Mustang restoration market has been flooded for some time with an abundance of parts for almost every part of the car, including the interior as well. Many times a Mustang restorer will not know what is available due to the changing marketplace and newer, better reproduction parts becoming available all the time. One thing to keep in mind before you start to replace your car's interior is what you plan to do with the car. If you just plan to build the car for your enjoyment, don't worry about buying parts that will be acceptable reproductions for judging purposes. If you plan to show the car on a judging field against other cars, make sure you buy reproduction parts that are accepted by the club or show that will judge the car on a regular basis. With this thought process in mind, you won't invest a lot of time and money into the interior and then find out you should have used different parts to begin with. Let's research what is available for the 1964-73 Mustang interior and hopefully we will find some answers to your questions.
Seat Upholstery Kits
The 1964-73 Mustang used a seemingly never ending amount of seat styles and colors over this 10-year production run. While we cannot list every seat style and color used on these Mustangs, it is safe to say that every style and color is now available through various Mustang retailers. A simple way to sell many Mustang interior kits is to combine the seat covers with the more popular items which will also need replacing when the car is restored. The majority of the seat upholstery kits sold in the U. S. today include the new seat covers, new carpet set, new dash pad, new door panels, new water shields, new door sill plates, new interior screw kit, a new headliner, and new sun visors. Also included in this kit for 1969-73 cars are new door panel cups.
It is much cheaper to buy the complete kit than trying to buy each interior piece separately. Some low mileage cars when purchased do not need a complete interior kit and may only need a few parts to make the car presentable. Be aware that even though the original interior may be in good shape, most original interiors fade slightly over time from sun exposure. You may find this out when you start replacing interior parts and you may end up needing to re-dye the original interior to match the new interior parts that have been replaced. You just never know until you start the job.
Another option not available until recent years for classic Mustang owners is the new lower seat frames. In years past, most Mustang owners would have to use their original lower seat frames by bead blasting or chemically stripping the part and then rebuilding the seat by adding new seat foam and new seat springs, if they could be located. Now, this lower seat frame can be bought as a complete unit with new seat springs. The seat foam and seat covers can be added easily for a complete new unit from top to bottom. There is nothing quite like sitting on a brand new seat in your Mustang.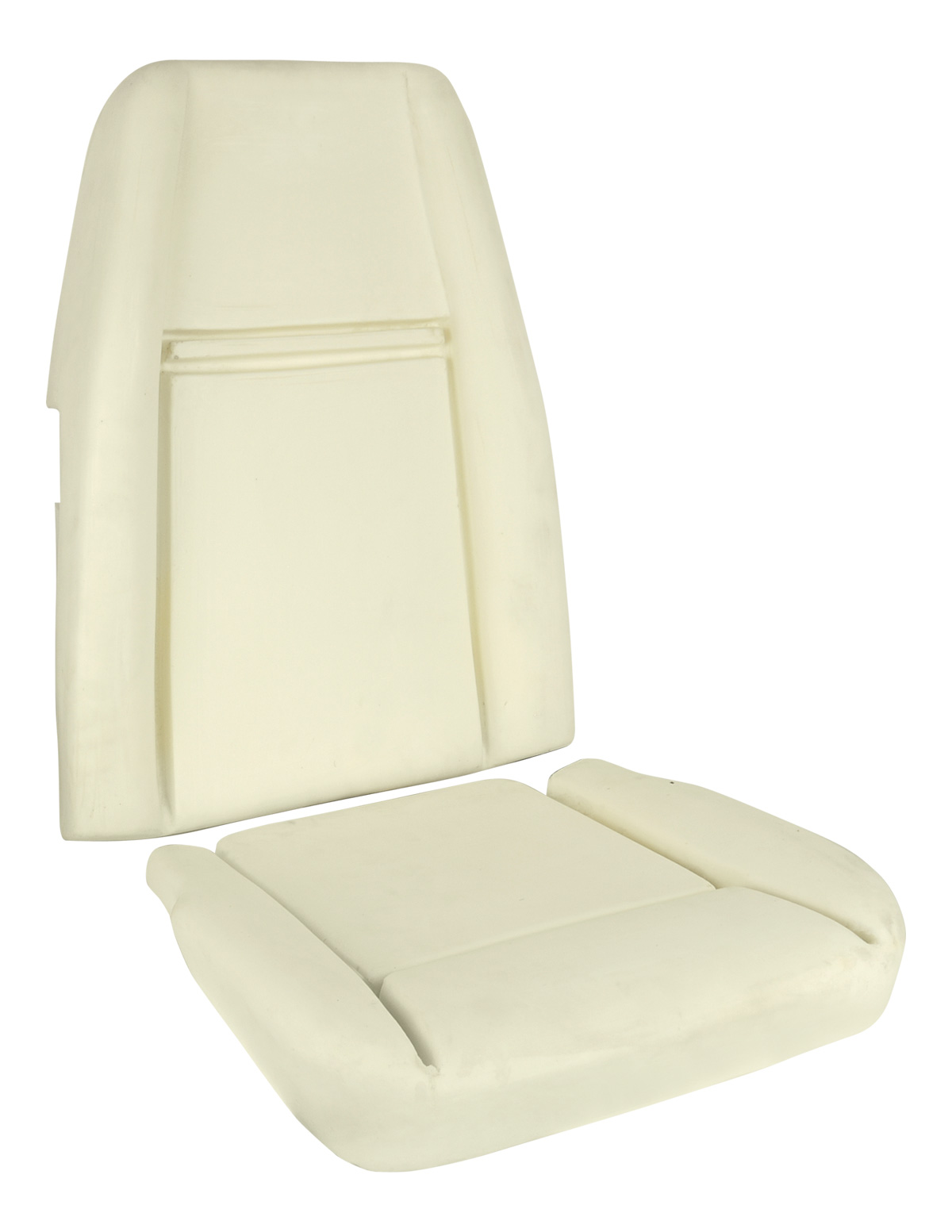 Carpet
The most used and abused part of any early classic Mustang interior will be the carpet. No one ever really thinks about it, but every time you get in out of the rain or walk off the local beach, you bring the junk on the bottom of your shoes into your nice Mustang's interior. Most of that junk can be microscopic in size but over time, as you continuously move your legs inside the car, all that junk is pushed down into the fibers of the carpet. After a while, even if you regularly vacuum the carpet, the carpet will begin to age and wear from all this subtle abuse. Eventually, the only choice for a person wanting a nice Mustang is to pull the old carpet set out and replace it with a new reproduction carpet set.
While you can buy non-original carpet from a variety of manufacturers, most classic Mustang owners will want to stick with an original looking carpet set. All 1964-73 Mustang carpet sets are readily available from most Mustang parts retailers. The 1964-68 reproduction carpet sets are manufactured with an 80% nylon/20% rayon blend that uses jute backing. These carpet sets also use the correct heel and toe pad design that was used by Ford originally. The 1969-73 carpet sets are very similar in design, but use a 100% molded nylon construction with jute backing. Replacing the carpet in your classic Mustang can make a dramatic and instant improvement to your Mustang's interior look.
Door Panels
Classic Mustang door panels are probably the next big step in improving the interior looks of your car. Door panels for classic Mustangs were manufactured for either Standard, Pony or Deluxe/Mach I interiors, totally dependent on the model year and how the car was optioned from the factory. All of these door panels are now available for any interior/exterior combination that Ford built. There are also new reproduction door panels now being built that are supposedly manufactured with a new design and fit better than the reproductions that have been available for some time. Door panels also take a lot of abuse when people get in and out of the car quite often. There is really no way to fix a molded door panel economically once it is damaged. Just buy a new pair of door panels and get it over with. Just keep in mind the possibility of the difference between the old, possibly faded interior and the new door panels.

Dashpad/Dash Cover
Classic Mustang dashpads are famous for fading out from exposure to the sun. Most of the Mustangs you see today at car shows have a new dash pad or if the original was undamaged, a re-dyed dash pad will suffice. All 1965-73 Mustangs reproduction dashpads are readily available and are easily installed in an afternoon. Reproduction dashpads have been available for some time now, but there seems to be a new reproduction dashpad that is utilizing the original Ford tooling and is much more correct than the current offerings available.

You also have the option of taking your dash pad off the car and sending it out to be repaired and recovered with original material. While this is the more expensive option in some cases, some restorers just want to keep the dash pad that the car came with originally. The final option is just to use a dash pad cover, which will just cover the dash pad. While this may be a viable option for a nice, street driven Mustang, this would not be the correct choice for a car that is to show and judged. The dash pad cover option is available for 1964-86 Mustang owners. The choice is yours.
Headliner
There is not much to say about a classic Mustang headliner. All Mustangs used the basic headliner and almost all classic Mustang owners will want to stick the original design, even if the car is not a car that is judged. While most professional interior shops can install almost any material in the car for a headliner, most restorers stick the original design, which is readily available at all Mustang retailers.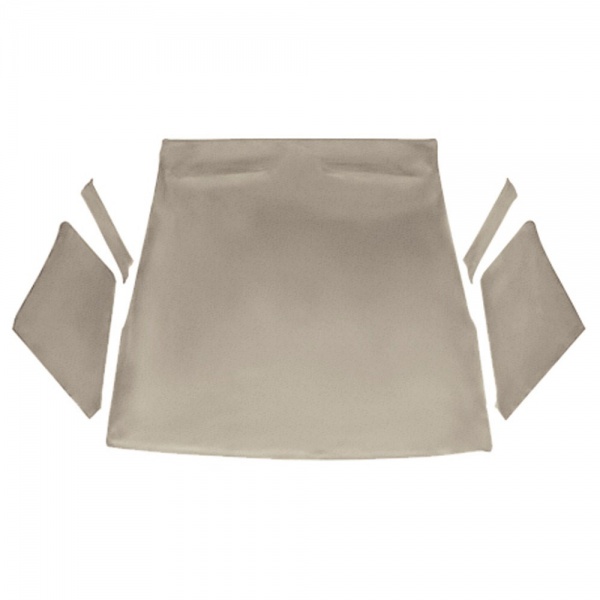 Instrument Bezels/Aftermarket Gauges
Another overlooked interior part most classic Mustangs usually need are instrument bezels. Most instrument bezels are manufactured of clear plastic and over time, most bezels can become yellow or become scratched. While some of these bezels be can be polished to remove most small scratches, the easier approach is usually to disassemble the gauge cluster and simply replace the worn bezel with a brand new one. These new bezels are available for all 1964-73 Mustangs with either the Standard or Rally Pac interiors. Also available for later model Mustangs are speedometers that register from 120 mph to 150 mph. These speedometers are sold based on engine type and model year. These late model speedometers are a popular and quick addition to the interior of any Mustang.
Aftermarket gauges have been added to Mustangs since its introduction in 1964. The first gauge to be added to a stock Mustang is usually a tachometer. Most early Mustang owners mounted the new tachometer to the steering column, where it could be read while driving or racing the car. Optional gauges that can also be added separately to your Mustang include an oil pressure gauge, water temperature gauge and an ammeter or battery voltage gauge. The oil pressure and water temperature gauges are the most critical and by closely watching these dials, many an engine has been saved from a terrible death. Most restored Mustang owners would never consider mounting an aftermarket set of gauges in their car but ultimately, the choice is again yours, based on the usage of the vehicle. Today instrument suppliers are now installing updated matching gauge kits inside the original dash bezels for almost any Mustang. This way you can get updated gauges with adding the external gauges from way-back-when. These aftermarket gauge kits can be bought almost anywhere Mustang parts are sold in a variety of price ranges.