An American Original: 1970 Chevelle Malibu Convertible
When this 1970 Chevelle Malibu Convertible joined us, we had a license plate we weren't using that was in our daughter Sandra Ellen's name. Because of that, "Ellen" somehow became the car's name, too.
The car came to us from Cleveland, Ohio. No doubt, that's a good place to live. It's in a great state (Go Buckeyes!), the people are nice, they have the Cleveland Clinic and LeBron, and of course, the Rock and Roll Hall of Fame. But, it can be tough on cars. The liberal (and necessary) use of road salt definitely takes its toll on steel during winter. For example, restoration of this car's body required one new door, some floor repair, a full trunk pan, both lower fender patch panels, and full quarters on both sides.
Fortunately, Ellen's former (and original) owner was willing and able to spend the money to have the job done right. And the man commissioned to do the paint and bodywork was a true artist. As an example, if the new quarters hadn't still had their original GM stickers inside, it's doubtful we'd have ever dreamed they were replacements.
In a strange twist, while the owner was putting all that time and money into the car, he fell in love with four-wheelers. So when work on the Malibu was done, the car was relegated to the backyard to sit idle under one of those cheap blue plastic covers. And there it stayed for five years.
Finally, he decided to give up on it altogether. During a visit from his daughter and her husband, who live near us here in Florida, he asked his son-in-law to bring it home and sell it. We bought it through him.
One of the most appealing aspects of this car is its long list of options – a 350/350, power steering and front discs, 2.56 rear, tilt column, AM-FM 8-Track Stereo, power trunk release, windshield washer fluid level monitor, clock, 3-spoke wheel, tinted glass, correct 14-inch Corvette-style Rally wheels, etc. One thing it does not have is air conditioning, no doubt a reflection of its Cleveland heritage.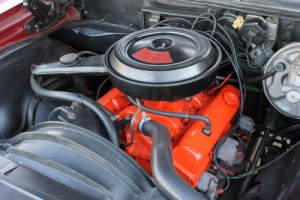 As received, the car was a contradiction. It had to be mechanically sound or it couldn't have made the trip down here flawlessly. The body was nearly perfect, and the paint was still very nice once we got the million little flecks of blue plastic off of it, that is. (That blue cover!) But just about everything else was a disaster. For instance, under the hood it was just solid surface-rust-brown everywhere you looked. We knew going in it was going to be a major project.
Over the next few years, we spent many an hour on it. We detailed under the hood, replaced the entire interior, pulled and refinished the top frame, put on a new top with window and pads and convertible well liner, redid the trunk, installed a new windshield, re-chromed both bumpers, installed new tires, new dual exhaust, and the list goes on…
The finished product is not half bad, and we love it. But we're well aware some people feel we should have created yet another '70 Super Sport. However, we already have a fully restored '72 Chevelle Super Sport convertible in our stable. Besides, we sort of liked being a little different, and nowadays a nice Malibu is probably a rarer sight than one more SS would be.
Ellen is a beautiful car just as it is. At least that's what we think. What we know is it's not going north again in the wintertime!
It's in the Codes:
L65: 350 cubic-inch V8 2 bbl.
M40: 350TH Transmission
JL2: Front Disc Brakes
V35: Clock
N10: Dual Exhaust
A01: Tinted Glass
UM2: AM-FM 8-Track Stereo
N33: Tilt Steering Wheel
NK1: 3-Spoke Steering Wheel
F40: Upgraded Suspension Package
B37: Floor Mats
Shop for 1970 Chevrolet Malibu parts at www.EcklersChevelle.com