By R.J. Schmieder

Photography by Colin Date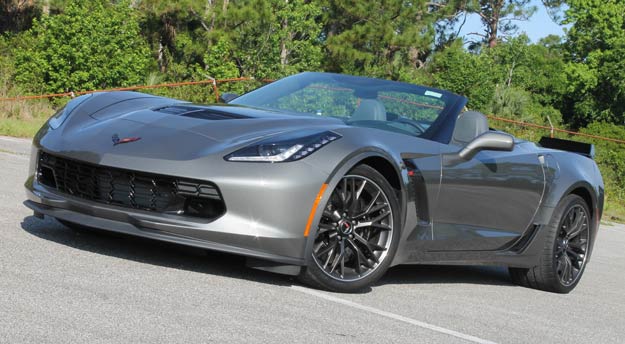 You and I really love our old classics. We grew up with these cars and have had some history with them, but we really need to look to the future of what will be the next collector classics. One great example is the new Corvette Z06 Convertible– 2015 or 2016 model– this car will be a collector piece right off the showroom floor. As is typical, the value will drop for a while, but then it will start to rise. At some point, this will be another 1963 Split Window Coupe-type collector car.



We can see the new Z06 becoming a collector car within the next 4-5 years. The base sticker price of $83,000 might keep the average Corvette fan at bay, but there will always be those who just have to have one in the garage. Special features like 8-speed paddle shifter transmissions, Magnetic Ride Control and dry sump oil systems are certainly racecar-inspired. Superchargers, cutting-edge stereo systems, and of course, small production numbers will certainly contribute to future collectability. The more options and unique combinations of options, the more collectors will want it. When you see one of these beauties driving down the road, see it as an important part of the future of our hobby.
This 2015 Corvette Z06 Convertible is owned by Marc Amstutz of Cocoa, FL. Here are some "driver impressions"…

"Wow." That was my first impression of the Z06 Corvette when I first viewed a hardtop last December at the Chevy dealer. The car was outstanding. Fits and finishes were clean and even. The engine bay was clean and not jammed with a lot of hardware as if someone assembled the car with no attention to location and accessibility. The tone of the exhaust was deep. Unfortunately, I was not allowed to drive the car. Also, I really wanted a convertible, which were not yet in production. Come late January/February, production of convertibles was initiated. It took several hours to decide and spec out a vehicle. In early April the Z06 arrived. One sight of the vehicle and I was done for. Like the hardtop, the fits and finishes were outstanding. I drove the car, and I'll tell you– I don't think the engineers could have done a better job of designing a vehicle. The horsepower and torque of the supercharged 6.2L engine is phenomenal. The handling and balance of the vehicle is superb. There are no shortcomings to the vehicle that I have found, and I don't think I will.

If you're at all interested in the new Z06 and you have an opportunity to drive one, do it– you won't be disappointed.





Shop for Corvette parts at www.EcklersCorvette.com

Follow us on our Corvette Facebook page. Click here and Like us!