This 1969 Chevelle Malibu has certainly seen better days. With the 350 cube, 2-bbl. V8, this car originally came with a single exhaust system. Passable (but just barely) performance wasn't good enough, so we elected to install a full dual exhaust system. This would not only help the engine breath easier, it was give us a nice, mellow muscle car sound.

We had Flowmaster ship us their part# 17119 which includes a full 2-1/2" tube system built specifically for 1964-'72 GM A-Body. Of course, complete systems are available for Late Great Chevys, too!

Flowmaster's system comes with their Super 40 Series Mufflers too, which creates pure magic to the ears. Maybe not to your neighbor's ears, but definitely to yours. The Super 40 Series is not too loud, and the tone is perfect. More on that at the end of this story... But for now, let's start a-cuttin'. We took the Chevelle and our new exhaust system to a local muffler specialty shop and let the pros do their thing. If you're more mechanically inclined, tackle the project yourself. Here's how it's done.


The existing single system has done its tour of duty. Yep, this was the original exhaust, and after nearly 45 years, is finished.



The shop owner commences with the Sawzall. We're breathing better already.
[envira-gallery id="1825"]Just as we suspected. Even though our Chevelle's exhaust system was not of double wall construction, the pipes had definitely lost their shape. This system was definitely the original- the stamping on the muffler says "V-8 DUAL", even though the car came equipped with the single muffler.



The new dual exhaust system is layed out and visually inspected. Flowmaster has designed this system to fit perfectly throughout the A-Body's undercarriage.

The fuel tank will be replaced as well, but that's another project we'll deal with later.



Of course, all the necessary mounting hardware is included with the kit. Here they quickly bolt up some hangers just in front of the axle.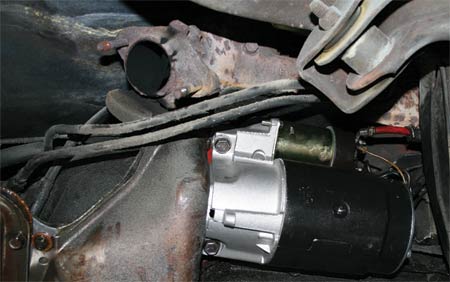 Here's a shot of one of the now open exhaust manifolds. Yep, you guessed it, factory original. It was at this stage that we realized that the Flowmaster system was really designed for cars equipped with headers. More on that in a bit...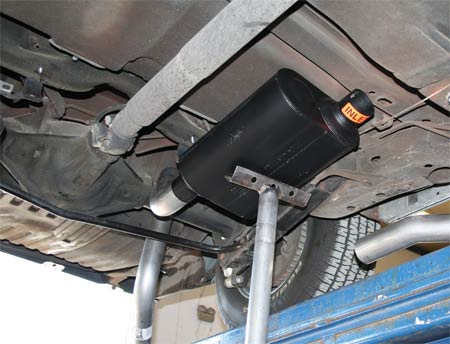 The Super 40 Series mufflers are mocked up into position...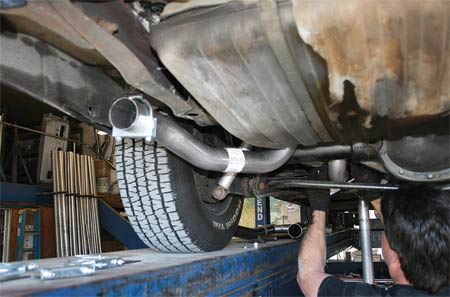 With one of the rear pipe sections attached, the muffler's position is fine-tuned.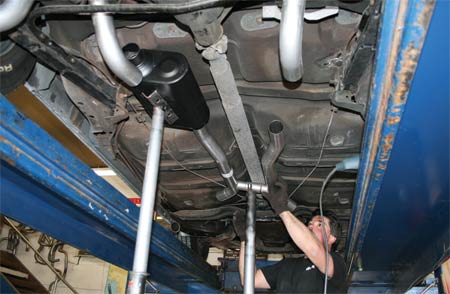 Here the H-pipe section is mocked up. Whether you are doing the install yourself or having a pro handle the job (our recommendation), it's important to loosely fit all the sections before you attempt clamping or welding the system together. Flowmaster's system fits to a tee.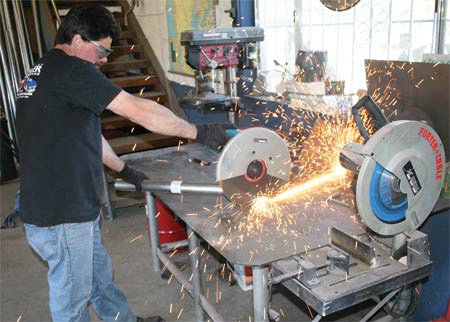 As we mentioned earlier, this system is better suited to use with exhaust headers, not really the shorty manifolds this stocker came with. The Flowmaster set up does not come with any piping ahead of the H-pipe section, so the shop had to fabricate tubes that connected the H section to the factory exhaust manifolds. No big deal, just some simple measuring and cutting.
[envira-gallery id="1834"]The fabricated tubing is test fit for length, and then properly angled using a hydraulic tubing bender. Any professional muffler shop has one of these benders - so if you're contemplating installing a new exhaust system by yourself - when you get to this point, have the tubing bent by a pro. Smooth, uninterrupted exhaust flow is critical to overall performance.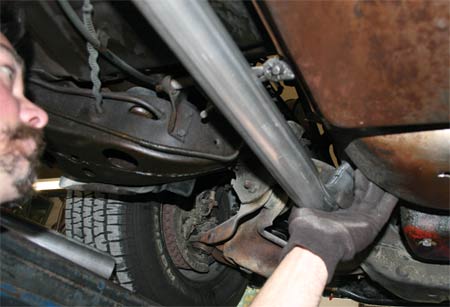 The "homemade" tubing gets its final fitting.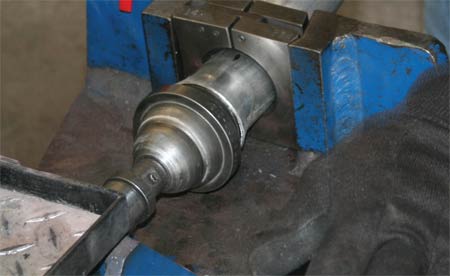 The ends of the tubing are flared for joining at the manifolds.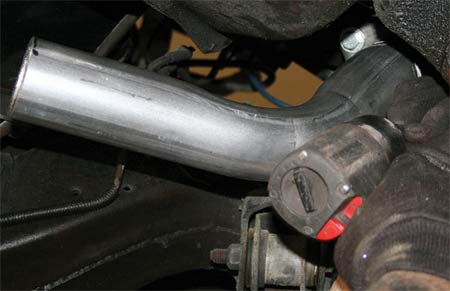 The fabricated tubing is then fastened to the manifolds.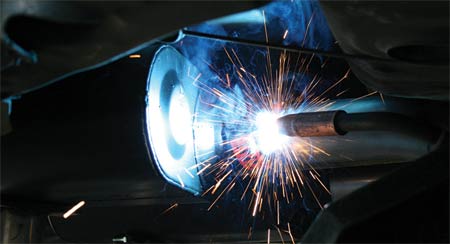 With the entire system in place, they start welding the joins.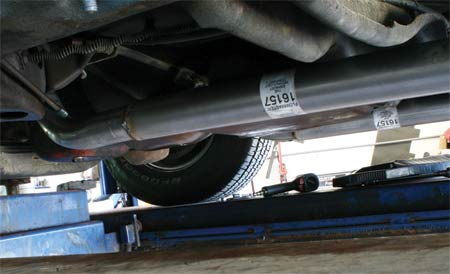 Now it's starting to look like a real exhaust system!



A set of hangers gets welded just behind the mufflers.



Flowmaster supplies two variations of tail pipes; a set that juts straight out with a beveled cut, or a more stock appearing set that features a downturned cut-off. The stocker approach was favored here, and they were welded into position.

We mentioned earlier in this story about the sound generated by the Super 40 Series mufflers. We think they're just the ticket for this ride. Log on to: www.flowmastermufflers.com for more info.

Check out the actual sounds at: https://www.youtube.com/watch?v=JcqJmwaDfYE

You can purchase individual exhaust system components or complete systems for your Chevy from Eckler's. Simply go to EcklersAutomotive.com, select your brand of Chevrolet, and enter the search word "Flowmaster".