How a childhood dream brought a '57 Bel Air 4-Door Sedan home to Norway

Story and photography by Stig A. Haugen

The original owner of Black Beauty, Mr. Anton L. Carlzon of Flint, Michigan, ordered the car the year he retired from General Motors. He followed it down the assembly line as it "got it all together". Equipped with the 6-cylinder Blue Flame engine and a Powerglide transmission, the Bel Air 4-door sedan was sold via Summerfield Chevrolet in Flint, MI, on July 18, 1957. It bore the plate number KR1535.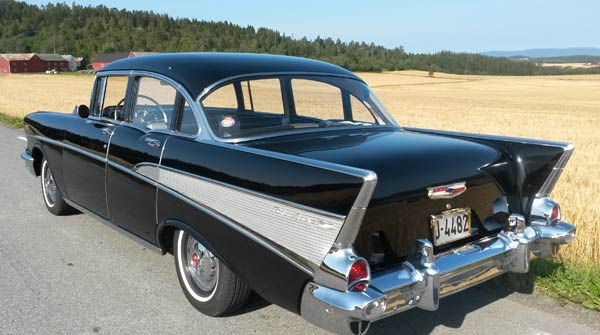 Anton and his wife took good care of Black Beauty and drove it just 21,000 miles over the next 23 years – until 1980. The car had always been garage kept and was never driven in rain or snow.

After Anton and his wife passed away, the Bel Air was sold to another retired couple (names unknown). They also took very good care of the car, keeping it covered most of the time and chalking up only another 2,000 miles over 10 years – until 1990. Why such low mileage? What more can you expect when the owners were busy with their other babies – 15 Hudsons!

One fall day in 1989, Mrs. Betsy Ann Sanders of Gaylord, MI, looked at Black Beauty for the very first time. She kept coming back to see the car every few weeks for about six months. Finally, she bought the Bel Air – a perfect match for a slow driving sedan type of person who loved the car.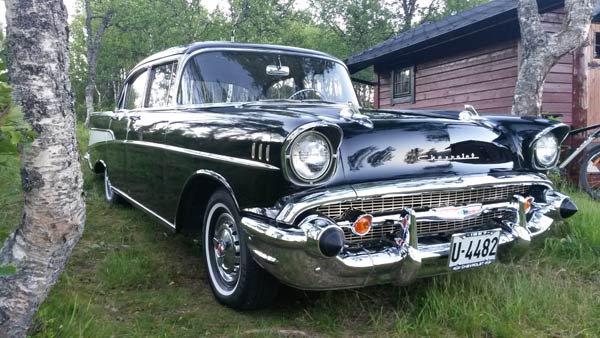 Betsy Ann bought a new set of original BF Goodrich tires with 2-¼" white walls, re-undercoated the car, detailed the engine compartment and changed all fluids. She took the car to a lot of cruise-ins and car shows, and even won some trophies. By that time the odometer showed only 25,000 miles.

Next owner was Mr. Valerie Snell of Michigan. He owned the car until September 10, 2012. It was then sold to Mr. Richard Dean Runyon, of Shenandoah, Iowa.

Two years later, Black Beauty came up for sale at an auction in Florida – and I, Stig Haugen, had a lucky day.

In March of 2014, the Bel Air finally arrived at my home in Trondheim, Norway.

Why this 1957 black 4-door 6-cylinder Chevrolet Bel Air? The story began on July 5, 1957, when my grandfather brought home a brand new Bel Air for his taxi service. Ever since age 5, I've never forgotten my first sight of that car. The shiny black paint, the glittering chrome details, and the overall impressive design – not to forget the smell of the interior! Today, I feel that time has been standing still every time I open the garage door and see Black Beauty.

This beautiful Bel Air lives and drives like a dream in Trondheim. Despite her old age, she's in great original condition and will remain "untouched" forever. She has become a kind of genuine reference car – there are not many '57s still around in original condition, even globally.
Features of Black Beauty

Assembled in Flint, Michigan

Original price of car $2,082.32

Total delivered price $2,945.95

Unrestored

29,000 original miles

Original license plates from 1957 KR1535

Original bill of sale

Blue Flame 140 (235) engine

Powerglide transmission

Posi-Traction differential

Chalk style numbers still on firewall

Dealer installed seat belts

Factory undercoating

Original spare tire

Windshield washer

Door handle shields

Door edge guards

Airflow heater

Oil filter

Backup lights

Outside mirror

Gas filter

Shop for Tri-5 Chevy parts at www.ClassicChevy.com

Follow us on our Tri-5 Facebook page. Click here and Like us!